They are not paying a monthly fee to an online dating site to be bombarded with a whole bunch of messages just because their filtered, ten year old picture looks good.
If you're looking for a relationship don't go near POF! There might be a lot of fish in the sea, but that's never the pond you would want to put your foot in.
The new term is "hook up sites". For those that are new to this, "hook up" means sex. I've been learning a lot now that I've been single, and now I cringe every time my Mother says, "let's hook up with the neighbors to see what they are doing tonight."
Online dating wasn't always like this. There are people that do meet and form a lasting relationship, but now you have a better chance winning the lottery or getting struck by lightning. (Honestly, I think I would rather get hit by lightning then go online again, and a lot of friends agree.)
Match dot com knows this, that's why they own many other dating sites. Why do you think Christian mingle was created? 2014 movie called Christian Mingle with Lacey Chabert does exactly what some people do on that website, fake being Christian in hopes to find someone GOOD. I do recommend the movie, it's very cute.
GOOD Single People
Let's define what a GOOD single person means.
1. A good single person is most importantly, single.
Unfortunately, some people are online just to fill a void in their married life and to waste your time messaging back and forth with never intending to meet you face to face for weeks.
Of course, this can happen when you meet someone face to face, you exchange phone numbers and you text back and forth but he never asks you out. Going through that right now…he's on day five, soon to be a goner! (That's another blog ?)
2. Someone that works!
This is great, but harder to find. We work, probably more then we should.
I had a table set up at a singles event last year and a well dressed middle aged man walked up to my table slammed both hands down on my table, and said "how am I supposed to find a single women when I work 60 hours a week?"
I slammed my hands down on my table, looked him dead in the eye and said "how am I supposed to find a single man that will trust me with the work I do and I work 60 hours a week? You have to have faith. She's out there, you'll find her."
He smiled at me and said "Sign me up." He wears our Offline Pin every time he shops or goes out.
3. Someone that goes to the gym!
Yes, I'm saying it. Join a gym! One that is not about body builders, one that is about general fitness. Your local YMCA, here goes another plug Planet Fitness.
People at these gyms are more relaxed and friendly. Start talking to people, make friends, take some classes.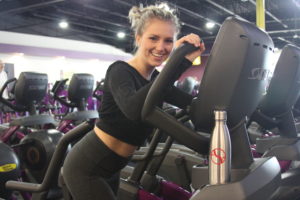 The best thing about working out is you are going to feel better.
When you exercise, your body releases chemicals called endorphins. Endorphins trigger a positive feeling in the body releasing stress. We could all use help with releasing stress. When you feel good people will take notice!
Don't forget your Offline Connections Water Bottle!
4. GOOD single people are usually involved with their community.
Do the same! Volunteer even if it's just once every other month.
It could be one night passing out food for the homeless, painting a house, planting flowers in your village, building a school park, local charity run or cleaning the beaches on Lake Ontario. I was just introduced to an amazing group called Embracing Hope.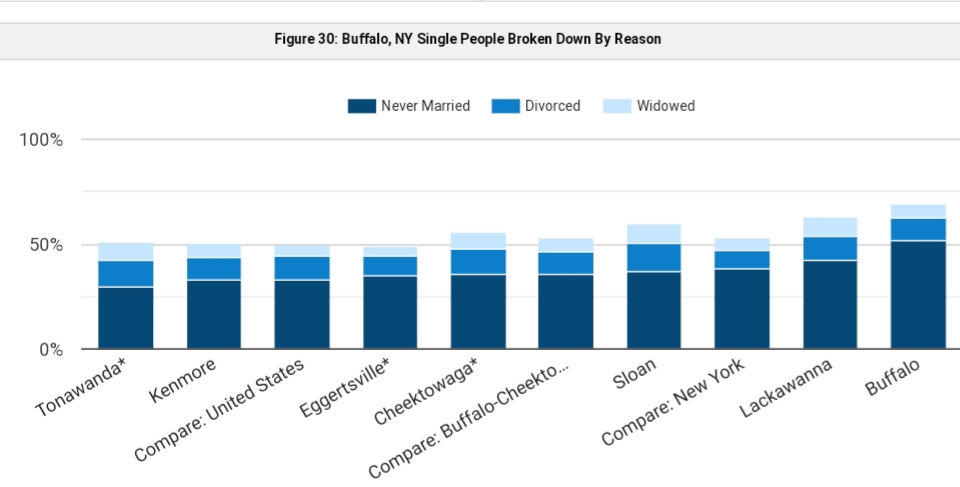 Take a look at the chart above. The amount of single people in our area is staggering.
I know I'm not alone when I say online dating is horrible. We've all tried online dating being that it's been our only option for nineteen years now.
For two years now we've had the Offline Connections Pin and now we have other products that will help you.
Our newest is a bracelet that can be worn by men and women.
Please join me and my mission let's help people find their LOVE.
For the young person that doesn't know what it feels like to be held so tight that nobody or nothing could ever hurt you.  The busy Mom or Dad that has no time for themselves and lays the head on a pillow every night alone wondering "will I ever be loved and held again?" For the person with the children are on their own, the nights are so silent that you can hear your own heart beat. Praying that your head was laying on someone's chest listening to their heart beat in the rhythm with yours.
Help me, help you, and in return help all of us,
Rita Jane <3
If you enjoyed this post, be sure to share it with someone who needs it!